Main content starts here, tab to start navigating
Menus
Slide 1 of 5
Slide 2 of 5
Slide 3 of 5
Slide 4 of 5
Slide 5 of 5
Starters
Coconut Lemongrass Soup

dungeness crab, shiitake mushroom, chili oil

$11

Rainbow Beet Salad

black pearl barley, smoked trout, cashew, horseradish, versus vinaigrette

$15

Butter Lettuce Salad

pickled carrot, celery, radish, smoked goat's cheddar, burnt orange vinaigrette

$15

Fire Roasted Cauliflower

date, pine nut, chimichurri crumble, lemon brown butter vinaigrette

$13

Herb Marinated Beef Carpaccio

roasted garlic ice cream, crispy shallot, cornichon, black truffle reduction

$16
For the Table
Tempura Green Beans

spicy mustard sauce

$9

Chard Edamame

chili oil, soy

$9

Dungeness Crab Fondue

braised artichoke, melted leek, gruyere and brie, crispy garlic flatbread

$14

Margarita Flatbread

marinated cherry tomato, fresh mozzarella, aged balsamic

$18

Avocado Toast

pimiento cheese, pine nut agro-dolce

$14

add sunny side up egg $2

add bacon $2
Accompaniments
Forest Mushrooms

$13

Caramelized Brussels Sprouts

bacon lardon, thyme

$11

Truffle Fries

$7

French Fries

$5

Bread Served Upon Request Only

$20 Corkage Fee per 750ml Bottle Limit One Per Guest
Entrees
Brix Big Lunch Salad

baby greens, cherry tomatoes, bacon, avocado, pickled peppers, herb cream

$16

add chicken $4

add grilled shrimp $10

add steak $12

Coriander Crusted Ahi Salad

baby boy choy, bean sprouts, wontons, sesame citrus miso vinaigrette

$27

Crispy Softshell Crab Sandwich

pan de mie roll, ramp and corn relish, old bay aioli, french fries

$21

Wood Grilled Swordfish

potato puree, bloomsdale spinach, crispy buttermilk onions, bone marrow jus

$32

Grilled Mary's Chicken Paillard

melted leeks, cauliflower, cherry tomatoes, artichoke barigoule

$23

Akaushi Pastrami Sandwich

sweet baguette, broccoli slaw, russian dressing, fries

$19

Wood Grilled Akaushi Coulotte

celery root puree, shaved brussels sprout, cipollini onion, bordelaise sauce

$33

Brix Croque Madame

brioche, smoked ham, crispy Nueske's bacon, gruyere, local egg, chowchow, fries

$19

Brix Burger

redwood hills smoked goat cheddar, bacon marmalade pickled peppers, mushrooms, chipotle remoulade, parmesan fries

$21
House Made Pastas
Bucatini and Meatballs

beef and ricotta meatballs, chili flake, marinara, parmesan reggiano

$25

Risotto of the Day

market price

Smoked Eggplant & Goat Cheese Ravioli

piquillo pepper and cranberry bean stew, garlic bread crumb

$23

House Made Duck Sausage Gumbo

tasso, pasilla peppers, snap peas, anson mills gold rice

$25
Weekly Dinner Plates
Sunday

Brunch Buffett

Sunday

Prime Rib Night

Monday

Retail Wine Monday

Tuesday

Family Style and To Go Fried Chicken Dinner

Happy Hour

Monday to Friday 4pm-6pm
Starters
Coconut Lemongrass Soup

dungeness crab, shiitake mushroom, chili oil

$11

Rainbow Beet Salad

black pearl barley, smoked trout, cashew, horseradish, versus vinaigrette

$15

The Bacon Salad

bacon glazed nueske's bacon, bacon panna cotta, bacon crumble, bronx grapes, mizen, apple cider vinaigrette

$15

Butter Lettuce Salad

pickled carrot, celery, radish, smoked goat's cheddar, burnt orange vinaigrette

$15

Fire Roasted Cauliflower

date, pine nut, chimichurri crumble, lemon brown butter vinaigrette

$13

Herb Marinated Beef Carpaccio

roasted garlic ice cream, crispy shallot, cornichon, black trumpet reduction

$16
For the Table
Tempura Green Beans

spicy mustard sauce

$9

Dungeness Crab Fondue

braised artichoke, melted leek, gruyere and brie, crispy garlic flatbread

$14

Avocado Toast

pimiento cheese, pine nut agro-dolce

$14

add sunny side up egg $2

add bacon $2

Ahi Tartare

dungeness crab louis, avocado, cucumber taro root chips

$19

Shrimp and Pork Potstickers

soy mirin sauce

$14

Oysters on the Half Shell

1/2 dozen, lemon ginger vodka granita, classic cocktail sauce

$20

Charred Edamame

chili oil, soy

$9
Accompaniments
Forest Mushrooms

garlic, fine herbes

$13

Caramelized Brussels Sprouts

bacon lardon, thyme

$11

Truffle Fries

parmesan reggiano

$7

Brix Fries

salt & pepper

$5

$20 Corkage Fee per 750ml bottle Limit One Per Guest
Dinner Entrees
Caramelized Sea Scallops

potato puree, forest mushroom, celery root, hazelnuts, black truffle vinaigrette

$38

Wood Grilled Swordfish

potato puree, bloomsdale spinach, crispy buttermilk onions, bone marrow jus

$32

Pan Seared Alaskan Halibut

coconut rice, dungeness crab, shiitake mushroom, hot & sour lobster broth

$35

Smoked Eggplant & Goat Cheese Ravioli

piquillo pepper and cranberry bean stew, garlic bread crumbs

$23

Niman Ranch Berkshire Pork Chop

smokey tomato plenty fries, romano bean, pine nut, charred zucchini puree

$31

Wood Grilled Akaushi Coulotte

celery root puree, shaved brussels spout, cipollini onion, bordelaise sauce

$33

Kelleher Braised Short Rib

smoked cheddar broccoli gratin, marinated mushroom salad, roasted garlic jus

$31

Niman Ranch Prime New York Strip

potato and leak gratin, roasted baby carrot, white cheddar vinaigrette

$44

Brix Burger

redwood hills smoked goat cheddar, bacon marmalade, pickled pepper, mushroom, chipotle remoulade, parmesan fries

$21
Housemade Pasta and Pizza
Bucatini and Meatballs

beef and ricotta meatballs, chili flake, marinara, parmesan reggiano

$25

Risotto of the Day

Calabrian Sausage Pizza

tomato sauce, housemade sausage, fennel, cremini mushroom, mozzarella

$25

Margarita Flatbread

marinated cherry tomato, fresh mozzarella, aged balsamic

$18
Weekly Dinner Plates
Sunday

Buffet Brunch

Sunday

Prime Rib Night

Monday

Retail Wine Monday

Tuesday

Family Style & To Go Fried Chicken

Happy Hour

Monday to Friday 4pm-6pm
Craft Cocktails 16
The Oakville Grade

charbay green tea vodka, st. germain, g's ginger beer, egg whites

Mule from the Gardens

absolut elyx, watermelon, cane syrup, lime, g's ginger beer

Smokin' Passion Margarita

lemongrass infused epsilon blanco, yuzuri, patino fruit puree, vanilla bean infused raw blue agave

The Botanist

vanilla bean infused botanist gin, asian pear juice, cucumber juice, marshall's orange blossom honey syrup

Tropical Heatwave

sombra mezcal, g4 blanco, cointreau, papaya/chili shrub, orange juice, habanero bitters

Brix Tai

kohana agricole rum, mezan xo, coconut/macadamia nut orgeat, chard/pineapple marmalade

Gold Rush Old Fashion

argonaut brandy, cane syrup, cherry brandy, tobacco/bacon bitters

Don't Fernet Sonoma!

sonoma county cherrywood bourbon, fernet branca, averne, ginger honey syrup, egg white, float g's ginger beer
Barrel Aged Cocktails 16
Tropical Vieux Carre

whistle pig 'piggy back' ry, dupeyrat vs organic cognac, pineapple spiced liqueur, tiki bitters

Old Fashioned

redemption high rye, brown sugar, angostura bitters

My Night Cap

goodnight charles bourbon, alessio sweet vermouth, vanilla bean maple syrup, candy cap mushroom bitters
Alcohol Free Cocktails 10
Plantation Tea

pineapple juice, ginger honey syrup, green tea

Palm Desert Palmer

lemon juice, jasmine tea, honey

Straight from the Cane

lime juice, lemongrass, cane juice, mint

It's Berry Refreshing

blackberry shrub, strawberry puree, inner beer, lime, mint

Cranberry Thyme

cranberry thyme shrub, pom syrup, lime, seltzer

Strawberry Basil Limeade

black pepper, lime

G&T

seedily spice n/a gin, grapefruit oleo, fentimans botanical tonic, rosemary
Draft Beers 16oz
Henhouse 'Stoked'-Blonde Ale

$9

Napa Smith 'Pilsner'

$9

Almanac Beer Co. 'Love Hazy IPA'

$11

Allagash-White Ale

$9
Bottled & Canned Beers
Maui Brewing 'Bikini Blonde'

$7

North Coast Brewing 'Brother Thelonious'

$12

Buffalo Bill's 'Orange Blossom Cream Ale'

$6

Anchor Steam 'California Lager'

$6

Ace 'Pineapple Hard Cider'

$7

G's Ginger Beer 16oz

$16
Pops & Others
Coca Cola, Mexico 12oz

$9

Coca Cola 6.6oz

$6

Diet Coca Cola 6.6oz

$6

Sprite 6.6oz

$6

Henry Weinhard's Root Beer 12oz

$5

Henry Weinhard's Cream Soda 12oz

$5

Q's Ginger Ale 6.7oz

$6

Tejava Black Tea (Iced Tea) 12oz

$5

House Made Lemonade 16oz

$8

Arnold Palmer w/ Tejava

$8
Wines by the Glass
SPARKLING WINES
Mumm 'Brut Prestige', Napa Valley

$12

Domaine Chandon 'Etoile' Rose, North Coast NV

$15

Schramsberg 'Blanc de Noirs', North Coast 2015

$17
WHITE WINES AND ROSE WINES
Pinot Grigio-Swanson, San Benito 2018

$9

Kerner-Sidebar 'Mokelumne River', Lodi 2018

$15

Grenache Blanc-Priest Ranch, Napa Valley 2017

$11

Sauvignon Blanc-Kelleher Family Vineyards, Oakville 2017

$16

Sauvignon Blanc-Groth, Napa Valley 2018

$13

Sauvignon Blanc-Morlet, Sonoma 2017

$18

Chardonnay-Trim, California 2017

$10

Chardonnay-Keenan, Spring Mountain District 2017

$16

Chardonnay-Kelleher Family Vineyards 'Three Sisters', Russian River Valley 2016

$22

Gewurtztraminer-Corazon by Corison, Anderson Valley 2016

$11

Riesling-Leto Cellars, Rutherford 2016

$12

Rose-St. Supery, Napa Valley 2018

$11
Pinot Noir-Baldacci 'Elizabeth', Carneros 2015

$12

Pinot Noir-ZD, Carneros 2018 '50th Anniversary'

$22

Pinot Noir-Kelleher Family Vineyards 'Ten Grand', Dona Margarita Vineyard, Sonoma Coast 2017

$25

Merlot-Peju, Napa Valley 2015

$12

Red Blend-Bell 'The Scoundrel', California 2016

$12

Zinfandel-Grgich Hills, Napa Valley 2014

$12

Cabernet Sauvignon-Trim, California 2016

$10

Cabernet Sauvignon-Kelleher Family Vineyards 'Brix Vineyard', Oakville 2011

$24

Cabernet Sauvignon-Cornerstone 'Benchlands', Napa Valley 2015

$18

Cabernet Sauvignon-Staglin 'Salus', Napa Valley 2012

$40

Cabernet Sauvignon-Oakville Cuvee, Oakville 2015

$58
THE FLIGHTS - Three 3 oz. Glasses
Kelleher Cabernet Sauvignon 'Brix Vineyard', Oakville

2011, 2012, 2013

$55

Kelleher Family Vineyards Three

Sauvignon Blanc, Chardonnay, Cabernet Sauvignon

$40

Brix East to West

Rock Cairne, Brix, Vinehill Ranch

$80
Waters
Voss

still water, norway 800ml

$8

Badoit

effervescent water, France 750ml

$8

Perrier

sparkling water, France 750ml

$8
Dessert
Pumpkin Cheescake

pumpkin seed brittle, cinnamon chantilly, caramel sause

$11

Butterscotch Pot de Creme

guittard chocolate pudding, hazelnut bark

$11

Brix Banana Split

caramelized banana, chocolate malt, hazelnut and caramel ice cream, candied hazelnuts, peanut butter sauce

$13

Brown Butter Apple Tart

huckleberries, bourbon pecan ice cream, caramel sauce

$11

Trio of Seasonal Sorbets

ginger pear, peach verbena, Kelleher cabernet fig short bread cookie

$10
After Dinner Cocktails
Espresso Martini

griffo cold brew, jameson black barrel, averna, house caribbean bitters

$16

Chocolate Martini

vangogh dutch chocolate vodka, cassis, godiva chocolate

$16
Sweet Wine
Dolce by Far Niente 2012

Late Harvest, Napa Valley

$27

Grgich Hills Estate 'Violetta' 2014

Late Harvest, Napa Valley

$16

Honig Vineyard & Winery 2016

Late Harvest Sauvignon Blanc, Rutherford

$31

Robert Sinskey 'Pinot Gris Late' 2014

Late Harvest, Los Carneros

$15

Reynolds Family 'Naughty Sticky' 2006

Late Harvest Chardonnay, Buchli Station

$10

St. Supery Moscato 2017

Estate Bottled, Napa Valley

$13
Fortified and Sparkling
Prager 'Noble Companion'

10-Year-Old Tawny Port Napa Valley

$18

Heitz Cellars 'Ink Grade'

Port Wine, Napa Valley

$13

ZD Wines NV

Rosa Lee Sweet Whim Petite Sirah, Zinfandel, Petit Verdot, Merlot, Chardonnay Fortified Wine, Napa Valley

$30

Banfi 'Rosa Regale' 2017

Quality Aromatic Sparkling Wine Brachetto D'Acqui DOCG

$10
sample menu - subject to seasonal changes
$49 for adults
$24 for children 7-13
6 & under free
Sunday Brunch is served buffet style. We continue ala carte service at 5pm.
Seafood Bar
CHEF'S CHOICE OYSTERS

mignonette

GULF SHRIMP COCKTAIL

horseradish crème fraiche cocktail sauce

HOUSE-SMOKED SALMON

capers

WOOD OVEN ROASTED LITTLE NECK CLAMS

smoky pepper butter
Salads
rotating selections of seasonal salads featuring heirloom grains, local organic greens, & fresh Brix garden produce
omelet station
custom made omelets, seasonal toppings, eggs cooked your way
Cheese Board
selection of cheese from our favorite artisan creameries, candied nuts, dried fruit, house made breads, local & house charcuterie
desserts
rotating selection of mini desserts & confections
Range
seasonal eggs benedict

house made biscuits

soft scrambled eggs

crème fraiche

seasonal pancakes & French toast

maple syrup, fruit compote

corn beef hash croquettes
wood oven
southern style home fries

bacon, fresh herbs

rotating selection of pizzas

seasonal garden vegetables, local and house made meats
charcoal grill
housemade sausage

applewood smoked bacon

garlic rubbed tri-tip

garlic jus

seasonal garden veggies
Make your reservations now online. Click link below for the menu.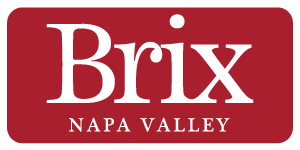 Download PDF